The NOE family from the Meetjesland in East-Flanders, Belgium

Wedding photograph
Georgine Vandevelde and Gerard Noë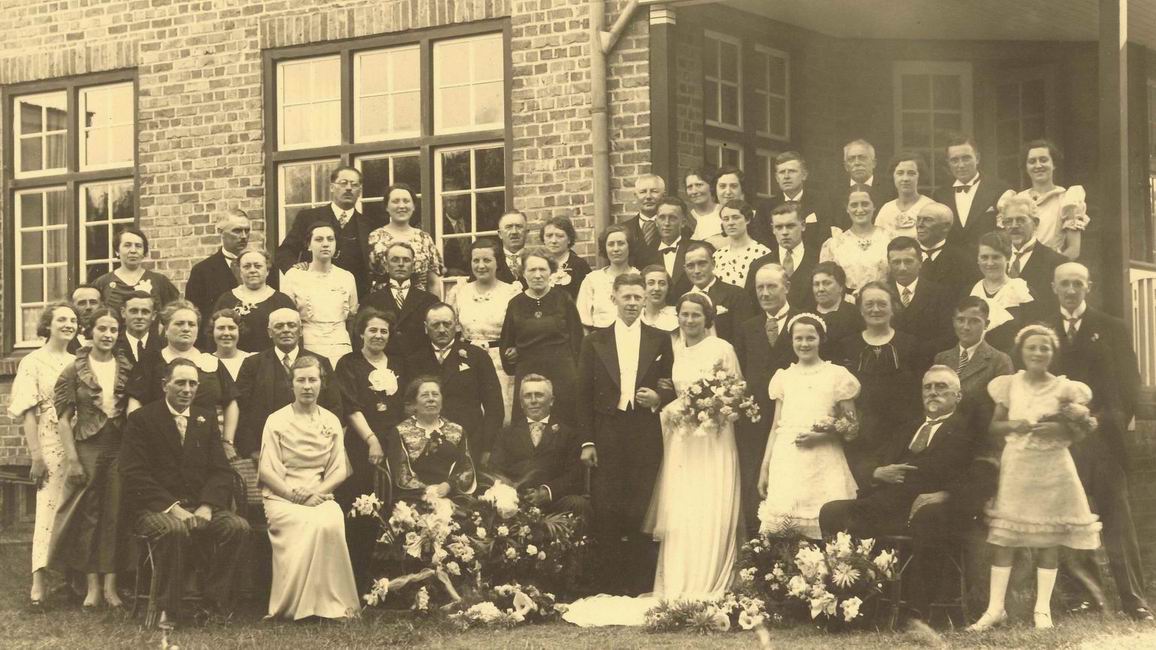 This picture was made by "A. Watteyne-De Laey, Knocke".
We are most grateful to Mr. Hubert De Bock from Watervliet for this picture and for his help with the identification of some of the persons shown here.
Many thanks also to Mr. Michel Noë (Aalter), Mrs. Marie-Andrée Noë (Zuienkerke), Mrs. Fritz Ryckaert née Nadine De Brabandere (Knokke),
Mrs. Marie-Christine Vandevelde (St.-Denijs-Westrem) and Mrs. Ghislaine Vandevelde (7 in the picture above) (New Zealand)
who also helped with the identification.
Thanks to them we now (10 July 2011) have the names of the 54 guests in this superb picture.
Was Ghislaine Vandevelde (7) the last survivor of them all until she left us on 20 August 2016 ?
If your cursor comes to rest on a face, the name of that person should appear.

We know other pictures were made on this occasion. Wouldn't it be really great if we could publish one or two of them here.
Contact us please !
We have here a bigger version and an almost poster size version of this picture.
Just the bride and groom on their wedding day
A page for the Vandevelde family and others present at the wedding feast

About Emiel Noë (C VIII c) and Irma De Bock


Our NOE Welcome page
Overview
Table of contents
Find it in our NOE website !

More genealogy
Het Meetjesland

Most recent update : 17-06-2018