La Fanfare du Meyboom
Brussels' Meyboom Band
Without the great Meyboom Band Brussels' folklore would almost be limited to the Ommegang. And it would be no where near as lively as it is now. If everyone is pleased to be there it's because of the great atmosphere the Band they know will create time and time again.
They were there when the Brussels Volunteers of 1830 first went to the Place des Martyrs to honour those who lost their lives in those heady days of September 1830 when the Dutch were thrown out and Belgium finally won its independance.
They are there in front of Manneken Pis every year in early January, one of Brussels' very first folklore activities of the year, to honour their founder Paul Coeckelenbergh, who passed away on 9 January 1991 and if the weather is not too freezing cold they'll play with in attendance some members of the Buumdroegers, the Poepedroegers, the Order of the Friends of Manneken Pis, the Compagnons de St.-Laurent, the Bruuselse Moestasjen, a couple of Woltjes, a Saint-Michel, sorry a member of the Order of the Knights of Saint-Michael, a Kuulkapper or two and many more...
The Band is there every year on 9 August when the Meyboom is planted. It was created in 1957 but they've been planting the Meyboom for much longer than that. In fact they've been planting the Meyboom every year without fail on 9 August for the last 700 odd years. Always on the same spot, the corner of Rue des Sables and Rue du Marais.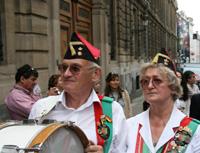 The Meyboom Band, also called the Breughel Band, is there every year when the Rue Haute in the Marolles quarter of Brussels remembers Breughel who lived and worked there. The giants then parade up and down the road and one of them is the great Jacques Brel. There are lots of other groups and bands and there is food and drink. And, needless to say, everyone has a good time. Many years after Breughel Rue Haute, High Street, saw the birth of two great musicians Stan Brenders and Toots Tielemans.
When Paul Coeckelenbergh disappeared his daughter Marthe took over. Marthe was also the treasurer of the Order of the Friends of Manneken Pis and a leading member of the prestigious Confrérie des Compagnons de St. Laurent. And when Marthe passed away her daughter Nadia took charge of the Meyboom Band.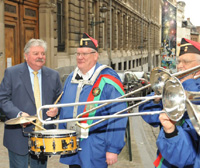 If you organise a little party and want to make sure it's festive and full of joy you can do no better than to ask the Meyboom Band. Rest assured, they know how to liven things up. Please contact Mrs. Nadia Luypaert (nadialuypaert@gmail.com)... well in advance because, surprise surprise, the band has many engagements.
Nous remercions vivement les personnes qui nous aidé à identifier un bon nombre de personnes qui figurent dans les photos que voici: e.a. Nadia Luypaert, Claire Tapie, Michel Clerinx, Alain Tillière.
---
All about Brussels folklore
La Liste Complète des Costumes de Manneken Pis
About Manneken Pis
Les légendes de Manneken Pis
Most recent update : 13-03-2022