The Adegem Canadian War Cemetery
Who are these men buried here ?
J.W. Baker - A Soldier of the 1939-1945 War - F.R. Anstey - S. Stankiewicz - E.R. Searles



This picture was taken on 16 October 2004.
Click on the picture or click here for the full size uncropped original.



These last 2 pictures were taken on 23 December 2021.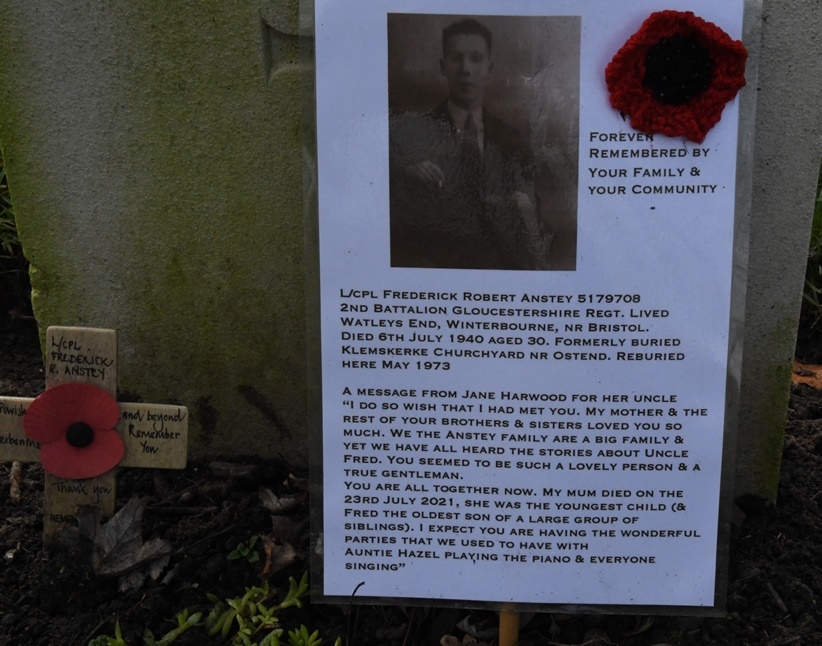 L/CPL Frederick Robert Anstey 5179708
2nd Battalion Gloustershire Regt. lived
Watleys End, Winterbourne, nr Bristol.
Died 6th July 1940 aged 30. Formerly buried
Klemskerke churchyard nr Ostend. Reburied
here May 1973.

A message from Jane Harwood for her uncle
"I do so wish that I had met you. My mother & the
rest of your brothers & sisters loved you so
much. We the Anstey family are a big family &
yet we have all heard the stories about uncle
Fred. You seemed to be such a lovely person & a
true gentleman.
You are all together now. My mum died on the
23rd July 2021, she was the youngest child (&
Fred the oldest son of a large group of
siblings. I expect you are having the wonderful
parties that we used to have with
Aunty Hazel playing the piano & everyone
singing."
The complete alphabetical list of the men buried here
The list of the 12 plots
The list of the Regiments that have one or more of their men buried here
The alphabetical list by Regiment
All about the Adegem Canadian War Cemetery
All about Adegem





Copyright © 2003-2023
Content may not be used or copied without prior permission of the author.
Contact us




Most recent update: 21 April 2021