The Meetjesland in the north of East-Flanders, Belgium
Adegem
At Adegem all is simple: no fortress or historic chateau, no important road or waterway. Or was there a fortress where the Tardoes Farm stood with its moat all around it ?
The town was named as Addingahim and Hattingem in the annals of the year 840 of the St Peters Abbey of Ghent. That meant: the place where Ado's people live. Prehistoric finds of the Bronze Age prove that people have been living at Adegem for quite a while. A Roman well was also found.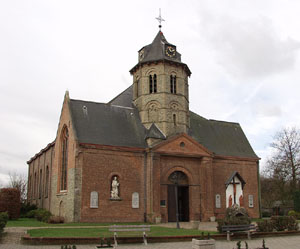 In a report by Galbertus on the murder in 1127 of Charles the Good, count of Flanders, Raverschoot, on the border with the Maldegem Corporation and Eeklo was described as "an almost invincible and inaccessable oppidum". The place was nonetheless burnt to the ground and totally destroyed in that same year because its occupant Robert Jr, thought to have been an accomplice in the murder was ensconced there with his coconspirators. Indeed, in this settlement of scores Robert and friends all lost their lives. We don't know who he was nor what evidence there was for his alleged part in this murder. And, as one of our readers pointed out, thanks to recent aerial photography only now do we know with a reasonable degree of certainty where this fortified farm stood.
The center of this town was described in an 18th Century land registry: on the east side of town there were then only 7 dwellings. To the west where the church stood there were 9 more and to the south in Church Street there was a cartwright's. And right in front of the church where later an inn would be built there lived Jacob Danckaerts. He also served beer although he had no official licence. To the west of this street Jan Potvliege built an inn in 1791 with official permission. Further south, next to the church there was an inn called "De Hert" (The Stag) and next to it a house that stood against the cemetery wall. South of that another house and then another inn called St. Hubertus. This was also a brewery. Still further south a couple more houses and that was the town center.
The old
townhall,
now the
public
library.
Adegem belonged to the Corporation of Maldegem until the end of the 18th Century. It had its own administration from 1800 but a town hall wasn't built until 1864. It was then also used as a school house. In December 1867 Adegem had 3430 inhabitants. There was a distillery, a brewery and three windmills. Adegem's last windmill stood in the Kruisken (Little Cross) district. It was a post mill belonging to Alfons and Leon Standaert, Adegem's last millers. It was pulled down on 3 May 1937.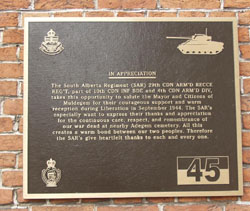 Adegem near the Schipdonk Canal was a target in both World Wars. In 1940 there was an airstrip here. There was very heavy shelling and many dozens of Belgian soldiers were killed in action.
The whole Meetjesland was liberated by Canadian (and Polish) soldiers in 1944. The Adegem Canadian War Cemetery is a stark reminder of those painful pages in our history.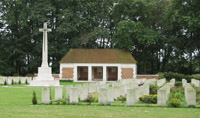 Another reminder of that same war is the Canada Poland War Museum. This museum, a private initiative, has a very impressive collection of authentic World War II paraphernalia. It is another tribute to Canadian and Polish soldiers who came to rid our land of the Nazi tyranny. And on 21 September 2004 in the presence of his Majesty King Albert a totally new museum was opened here to the public: the Maple-Leaf Miniature Museum shows authentic WW II battlefields in 1/35 scale. It also has a section on the Belgian Royal Family. There are also the charming French, English and Japanese gardens and there is the tearoom. I urge you to visit their site on the world wide web and the real thing in Adegem.
Adegem is also home to Indusign N.V., builder of the mighty E-Crane. They export a great product to the four corners of the world. Here you can find out more about this great company.
More pictures from Adegem
Our pictures of and inside Adegem's church



This is the man, Gilbert Van Landschoot, who made it all happen: the Canada Poland War Museum, its Maple-Leaf Miniature Museum and the gardens are his creations. And he can be truly proud of them.
See here what more a Brit has to say on the matter.
| | |
| --- | --- |
| | On 23 April 2006, back in Sleidinge, we came across a convoy of WW II military vehicles. Read here all about our encounter with "Call of Duty - United Soldiers". |

Here is a link to a superb website in Dutch where Geert and his pals keep us up-to-date on current affairs in Adegem.

And here is a link to a few pages, in Dutch, about the history of Adegem beautifully handwritten by Maria De Baets in... 1928.
| | |
| --- | --- |
| | Here we have a few b/w photographs taken in Adegem by Mr. Romano Tondat between 1962 and 1975. |


More pictures
Our Meetjesland — Table of Contents — Find something in this Meetjesland website


MijnPlatteLand.com

Most recent update : 01-05-2021
Copyright Notice (c) 2023