The Meetjesland in the north of East-Flanders, Belgium
Our Meetjesland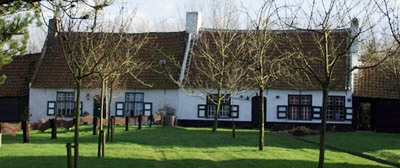 Welcome on this website, the biggest and greatest English language website of our Meetjesland in the whole wide world !
This is a good time for you to discover this land of ours. And here on this website there is a lot to see and to learn. We've made photographs, hundreds of them and we have put dozens and dozens of them here. Only the very best of course. But judge for yourself.
These pages on our Meetjesland came out of a project for a genealogical website on the Noë family, a family that came from our Meetjesland. Mr. Marijn Claeys in his study on the genealogy of our family wanted his readers not only to know about our ancestors but also about the lives they led, where they lived and what they went through. And that one chapter in his book has become much bigger here than the whole book.
So, the region where all this took place, what was it like then and what is it like now?
First a word of praise for those who did the real research and whose works we were allowed to translate and publish here for you. There is for instance Mr Daniel Verstraete and his magnum opus "Historische Verkenningen in het Meetjesland" (Historical Reconnaissance Trips in the Meetjesland". And let's not forget those who made the publication of that work possible. Here are a few names: Rony Bohy, Margriet De Cuyper-Maes, Jozef Dobbelaere, Marcel Haers, Roland Holderbeke, Hugo and Walter Notteboom, Raymond Standaert, Luc Stockman, Firmin Van de Poele, Remi Van Hooreweghe, Jerome Van Maldeghem (who comes from Maldegem), Robert Van Vooren, Noël Verheecke and Gerard Verschaffel.
| | |
| --- | --- |
| | On the left a small sitting room, on the right the big "best room" used only on special occasions while the real life of every day is for the back of the house. |
Then there is Mr. Jozef De Paepe who wrote two great books about Watervliet, its history and its surroundings.
"Taptoe" and before their merger "De Eeclonaar" are two publishers who did a great deal to sing the praises of our Meetjesland. Of course both have their headquarters in Eeklo, the capital of our Meetjesland.
We are also most grateful to the good people of "Nature and Landscape Meetjesland", a not for profit association, the editor and publisher of the "Streekgids Meetjesland" (Meetjesland Regional Guide). They gave us their blessing to translate their texts and publish them here for you. The editorial staff, Jacques Cleppe, Toon De Kesel, Robert De Lust, Ivan Hoste, Walter Notteboom and Marc Schoonackers deserve our praise for such a great and comprehensive work.

Finally here is a word of appreciation for all those who now live in our Meetjesland and make their little corner of the world look neat, bright and green with plenty of flowers.

Many of them do everything in their power to keep an old chapel, house or barn the way it was in their grandparents' day and we express here our heart felt thanks to them for their efforts.

We like that a lot better than so many impersonal, exotic looking villas you can find anywhere except here on this website.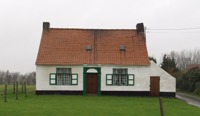 Now for something of a more practical nature, especially for those more or less new to the internet: when you move your cursor over a picture the cursor may change. If that's the case, just click on the picture and let's hope a larger version of that picture appears. You might even get a big uncropped original jpeg file. If there are no other buttons or clickable text you can use the Back button of your browser to return to the page where you just came from.
As you know: traduttore traditore. A translator is a traitor. Should you, dear reader, find an error, or a badly phrased sentence, or if you have any other comments or suggestions please don't hesitate and contact us. We are also inter­ested in old documents, old maps, photographs, stories, funeral cards of our Meetjesland. We scan the documents and give everything back. If there is a good copy, then should anything happen to the originals,—God forbid !— we still have a copy. Please contact us. Thank you.
We hope you enjoy reading these pages and looking at the photographs.
Photographs ?
Yes, for instance,
those made more than
30 years ago by Mr. Romano Tondat.
A superb collection of
black and white pictures !. Click here.
In the background on these pages you see a drawing of a beautiful Meetjesland farm by the well known Belgian artist Herman Verbaere. Here is a black and white version of this drawing.
And now come on in for something about the whole region of our Meetjesland and its history. We have a text about each Meetjesland village accompanied with pictures. See here for a list of the towns.
The Leopold Canal.
The windmills of our Meetjesland
Travel instructions: how to come to our Meetjesland

If you want information on some other region of Belgium
we can recommend a great website:
BelgiumView !
You can admire this site in English, Dutch and French.


More pictures
Our Meetjesland — Table of Contents — Find something in this Meetjesland website


MijnPlatteLand.com

Most recent update : 22-04-2021
Copyright Notice (c) 2023