The Meetjesland in the north of East-Flanders, Belgium
Our Meetjesland: a land of creeks
The polders that were created in the 15th and 16th Centuries were largely flooded in the storm of 1 November 1570. They were flooded again because of the deliberate piercing of the dykes in 1583 because this was the time of the Eighty Years' War (1568-1648).
And while men made war against each other the sea once again reigned supreme over the area taken from it by man. This is the period when many creeks ("kreek", plural "kreken"), gulleys and water ways were formed: here and there the violent waters dug deep gullies. Other creeks are the remainders of inlets of the sea that remained behind when the sea retreated.
In the 18th Century the great gullies were dammed in and thus were created the Olde Haantjesgat Polder (1697), the New Haantjesgat Polder (1750) and in 1775 the "Brandkreek" (Burning Creek).
These lakes, surrounded with reeds and perhaps with a row of pollard-willows are now part of the quiet beauty of the landscape together with the dikes and the flat land.
Where now the Roeselare Creek lies there stood once upon a time a town. It was called after its founder Gozewijn van Roeselare. It was quite an important town with its own church. Indeed, it prospered and in the 13nd Century it received the rights and privileges of a city. But it was washed away during the inundations of the 14th Century. In 1979 a team of archaeologists led by Etienne Van Vooren uncovered part of the remains of its church and graveyard in a meadow in St.-Margriete.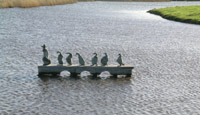 If you intend to search on a map for Piete, Koudekerke or Wevelswalle it had better be a very old map because these are a couple of the towns that disappeared, sofar without trace, in one of those terrible storms.



More pictures
Our Meetjesland — Table of Contents — Find something in this Meetjesland website


MijnPlatteLand.com

Most recent update : 22-04-2021
Copyright Notice (c) 2023