The NOE family from the Meetjesland in East-Flanders, Belgium
C VIII b Henri Noë
fs Ivo Franciscus and Catharina Boone brother of August

° Zelzate 2/6/1879
x Bassevelde 30/5/1906 Leontine de Pape
† Overslag 3/9/1959

He married in Bassevelde on 30/5/1906 with Leontine De Pape. She was born in Bassevelde on 12/10/1877, the eldest daughter of Engelbert De Pape and Clementine De Langhe.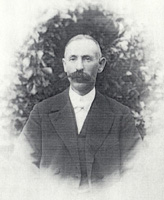 Henri Noë
They continued the exploitation of his father's farm in the St. Elooispolder in Wachtebeke-Overslag.
Like his father Henri was for many years active as a town councellor.
Henri and Leontine happily celebrated their golden wedding jubilee (50 years) but a little more three years later he died on the farm on 3 September 1959. Leontine died in the arms of her daughter Aline in Zaffelare on 13/2/1969.

Henri and Leontine had 12 children all born in the Overslag:
Willem Noë
° Overslag 13/4/1907.
He was a brilliant and well known Jesuit priest. He was ordained a priest on 10 June 1933.
He died on 24 July 1946 after a long illness.

Maurice Noë
° Overslag 14/9/1908 and died there on 26/11/1908.

Johanna Noë
his twin sister died on 30/11/1908.

Marie-Madeleine Noë
° Overslag 24/9/1909.
In Ghent on 19 March 1938 she became Sister Marie-Madeleine, a cloistered discalced Carmelite anchoress and took her eternal vows on 25 March 1940.
She died after a long illness in Ghent on 27/10/1989.

Urbain Noë
° Christmas Day 1910.
On 22 February 1938 in Boekhoute he married Clara De Jonghe. She was born there on 24 September 1901. They took over the farm of her parents in the Posthoorn in Boekhoute. They had no children.
Clara died in the Maria Middelares Hospital in St.-Denijs-Westrem (Ghent) on 27/9/1987 and less than a year later on 7/10/1988 Urbain died in Boekhoute.

Gabriella Noë
° 15/10/1912.
She died in the Overslag barely 3 and a half months old on 28/1/1913.

Joris Noë
° 30/10/1913
He became a priest on 24 August 1945. He was a very well known educator and author of a series of acclaimed schoolbooks used for many years in all the Catholic schools of Flanders.
He died in Ghent on 27/3/1982.

Albert Noë
° 14/7/1915
He became a Franciscan priest (Minorite). After a spell as a prisoner of war he was ordained a priest in Leuven on 2/8/1942. On 20 February 1945 he left for Chili. And from 1948 till 1960 he was maths and physics professor at the Seminario Franciscano at La Serena.

When his health failed he came back to Belgium. He died on 23 February 1992 in the Maria Middelares Hospital in St.-Denijs-Westrem (Ghent).

Raymond Noë
° 7/11/1916
He continued on the family farm in the St. Elooispolder.
On 12 May 1948 he married Irma De Letter. She was born on 23/11/1923. They had 8 children and 7 grandchildren. Raymond died in the Overslag on 8 June 2005. See here for a beautiful picture of Raymond as a soldier. And here we have a picture of Irma's parents with four of their children including Irma herself.
On 17 November 2016 Irma and Raymond had 6 greatgrandchildren.

Aline Noë
° 2 June 1918
On 22 August 1947 in the Overslag she was married to René Van Hecke, a florist from Zaffelare. He was born there on 24/11/1912, the son of Adolf Van Hecke and Clotilde Van Peteghem. Aline gave birth to two daughters and one son Willem (Zaffelare 17/3/1953 - Zelzate 9/12/2011). They have 7 grandchildren.
René died in Ghent on 7/5/1973. And Aline died, also in Ghent, on 30/5/1989.
Here we have a wedding photograph.

Marie-Louise Noë
° 17/8/1920
On 8 December 1950 she started her life as a nun with the Cistercian Sisters in Ghent. And now she studied to become a nurse. On 12 August 1952 she took her religious vows and became Sister Assumpta. Here is a picture taken after her Perpetual Profession of Vows.
She was respected by everyone who knew her for the many many years of devoted service she gave to the Maria Middelares Hospital in St.-Denijs-Westrem (Ghent). In 2001 she celebrated her golden jubilee.
And finally on 1 February 2007 here in her hospital where she had helped so many patients she quietly passed away.

Jozef Noë
° 15/4/1922
He married Elfrieda, Raimond's sister-in-law in Wachtebeke on 16/7/1949. Se was born there on 19/5/1928. About a month after their wedding they emigrated to Detroit in the United States of America. They lived for quite a few years in La Porte, Indiana. They have 8 children and 2 grandchildren.
Joseph died on 24 July 1992 and Elfrieda on 19 December 2003.
Many thanks to Mr. Erik Van Peteghem for supplementary information.


Our NOE Welcome page
Overview
Table of contents
Find it in our NOE website !

More genealogy
Het Meetjesland


MijnPlatteLand.com

Most recent update : 21-04-2021
Copyright (c) 2022